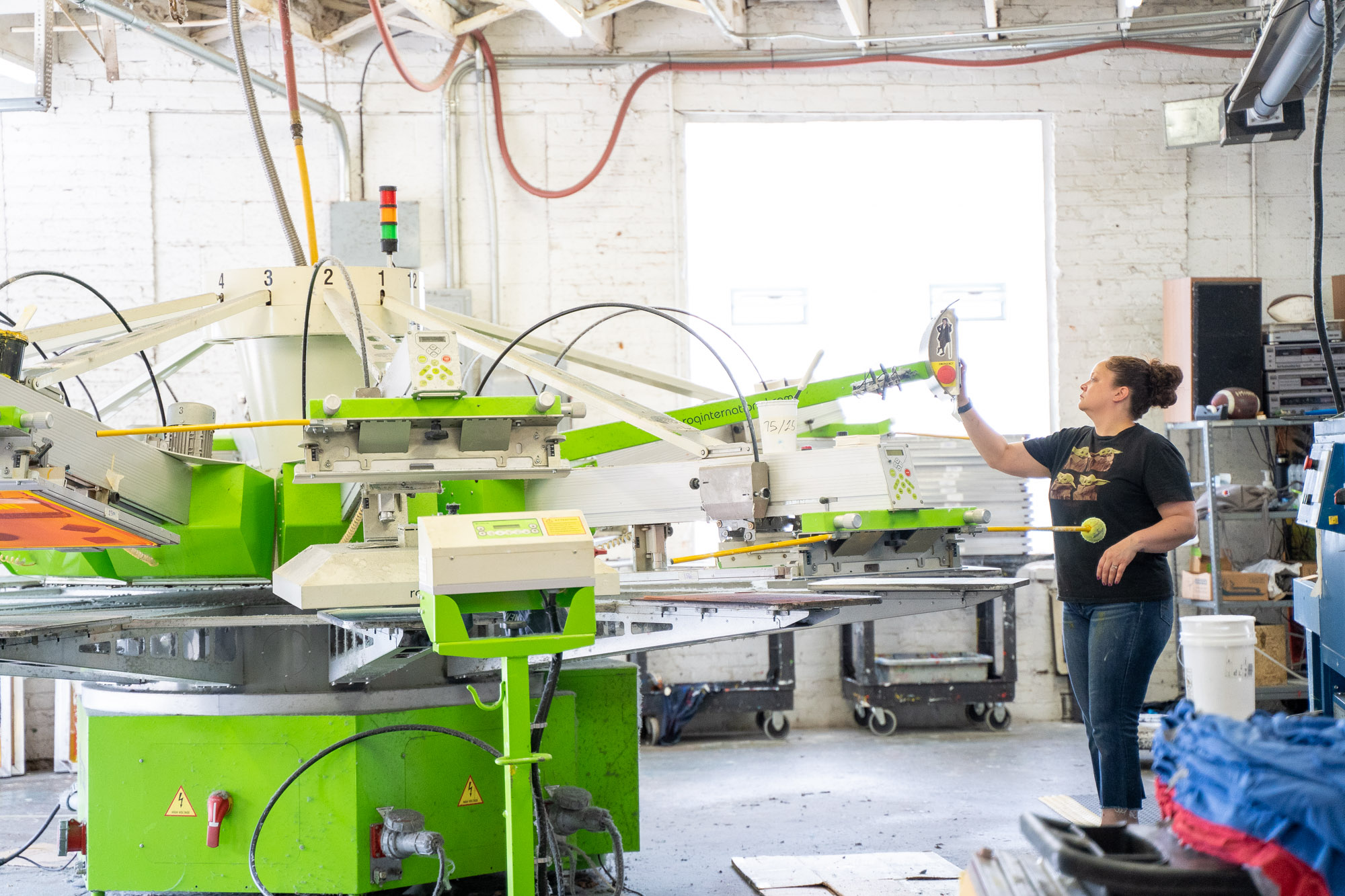 We can put your design on anything.
Get your brand the attention it deserves with custom merch and promotional products.
tell us about your project
Value Propositions
US-Based Production

We're big enough to handle your order, small enough to care about making it perfect.

Quick Response Times

Our team is here to help you with your project every step of the way.

Easy Ordering Process

Get a quick no-obligation project quote.
What We Do
Screen Printing
There's no better way to boost your brand than with a T-shirt! At our company, we have expertise in screen-printing for both large and small orders, catering to businesses, schools, events, non-profits, and beyond.
Our shirts are not only soft and comfortable but also incredibly versatile. We take pride in offering high-quality garments that can be customized to meet any requirement, be it size, color, or style.
screen printing quote
Embroidery
Elevate your appearance with custom embroidery, providing a sophisticated touch that leaves a lasting impression and endures over time.
Our embroidery services offer a seamless blend of simplicity and style, ideal for enhancing polos, jackets, bags, or hats.
embroidery quote
Promotional Products
Personalize items that people will truly enjoy and utilize. We offer a wide range of customizable products, from stickers, signs, and drinkware to lanyards and pens.
With the perfect item, your brand has the potential to go far and reach new horizons.
get a quote
about us
We make products you can be proud of.
Jūpmode (JOOP-mode) is more than just a destination for proud Midwesterners seeking cute and comfortable tees.
Our team of skilled screen-printing and embroidery experts is ready to bring your brand to life by creating custom products that you'll be proud to sell or give away.
Whether it's apparel like unbelievably cozy and well-fitting T-shirts, hats, stickers, bags, or any other promotional item, we've got you covered.
We take pride in our ability to put your logo or design on virtually anything, as we've been producing top-notch merchandise for nearly 15 years. Don't hesitate to put us to the test; we've seen it all and are ready to deliver exceptional quality.
get a quote
You can even commission custom artwork.
Looking for a fresh design that sets you apart? If your current design isn't quite hitting the mark or if you're seeking something new and attention-grabbing, we've got you covered.
With 15 years of experience, we've curated a collection of designs that customers adore in our stores. We have a keen eye for what looks great.
Our experienced in-house graphic designers are thrilled to help bring your ideas to life.
tell us your idea
We can do it all.
We cater to a wide range of clients, from large businesses, conferences, and nonprofits to schools, leagues, bands, and teams. Our team approaches every project with a friendly smile and a can-do attitude.
Let your brand shine with unique and enjoyable apparel that resonates with your audience, designed to withstand the test of time. Alternatively, promote your event or company with practical and premium-quality products that leave a lasting impression.
At every stage of your project, our dedicated team is here to support you. Simply complete the custom order form below, and we'll take care of the rest!
get a quote
Customers Love Us!
Family Reunion Tees
When my family started planning our reunion over a year ago and I was assigned the job of designing and printing matching t-shirts, I knew I wanted to go with Jupmode. I have worn their shirts, store-bought and custom designed, for years, and they are my favorite. Always big on softness and nostalgia for Toledo, Ohio, Michigan, and other locations I know and love.
I ordered 62 shirts for my reunion, a mix of adult and youth, and the shirts were perfect. The staff was very responsive to my questions, the turnaround was super fast, the finished t-shirts were incredibly affordable and high quality, and my family members can't stop complimenting the fit, softness, design, and color.
I will definitely give my future business to Jupmode.
Black Diamond
Rob and Jodi have been my personal Jupmode workers and hooked us up continuously with everything asked for!
Black Diamonds threads are fresher than they've ever been. Thank you all so, so much (especially the design team) for working with us professionally and quickly. Also just wanted to shout if the fact that your employees seem to be the most down to earth, respectful people I've done business with- and we love to see that.
Thanks for everything!
Youth Baseball
Total experience working with Jupmode was AWESOME. I had shirts made for the youth baseball team that I coach as we were hosting an invitational in BG. We wanted to honor one of our great business sponsors (who so happens to be my baseball player/son's grandfather) by naming the invitational after his place of business.
We had shirts made in a very short period of time and it was a perfect way to say THANK YOU to our sponsor and also a fun gift to give to all of the baseball players on the team. Can't wait to do it again next year!
How it Works
Fill out a quick no-obligation project quote.
We'll send you a response within 24 business hours.
Your project could be completed within 7-10 business days.
Get started
Custom Quote Request
* Denotes required fields
Come On By or Drop Us a Line
Hours
Monday - Friday: 11AM - 6PM,
Saturday: 11AM-4PM
Address
Adams Street, Toledo, OH 43604